Only starlit sky at night
Welcome to the Minas Gerais' Wilderness, into the Natural Park of Ibitipoca in Brazil, at an average altitude of 1,500 meters ; the highest peak, Lombada, being 1,780 meters above sea level.
Reserva do Ibitipoca, a 4 hour-drive from Rio de Janeiro, is also accessible by private transfer on a small plane or helicopter. Definitely a region to center and ground yourself in the energy of the Earth in quite an authentic region away from tourist destinations even though Brazil's tourism is actually reduced to very little for such a huge majestic country (6 million tourists –just as many as those visiting Belgium – for 200 million inhabitants).
Reserva do Ibitipoca offers you the peaceful atmosphere of a colonial style house in a place you can very well imagine centuries ago living on sugar cane and coffee… at the time of slavery. One of these « Fazendas do Ouro ». This is for the past history.
Today, with the deep wish of Renato, his creator, to bring back this place to the exhuberance of Nature, Ibitipoca is opening to ecotourism with other deep wishes : that to offer nature lovers a unique experience as well as to develop the region and better the lives of the local people through job creation, empowerment, and valorization of the culture and traditions of a historic Mineiro community.
A RAINFOREST NATURE RESERVE
At the very beginning of the project of Reserva do Ibitipoca, in the early 80, with the acquisition of Engenho's Farm, the main goal was – and still is – to create spaces that would allow the development of wildlife, all connected to Ibitipoca State Park, in Minas Gerais, famous for its landscapes full of waterfalls, peaks, ridges, caves and natural pools. The Reserva's mission clearly is the restoration of the natural habitat through native species such as for instance, for fauna, the irara (a mammal close to the ferret and living in the Atlantic forest) or the muriqui (a small monkey whose name means « peaceful people » in the Tupi-Guarani indengious language) and for flora: cacti, orchids, candeia and bromeliads, the icone of the lodge. Reforestation and reintroduction of endangered animals that have vanished in the region (onça parda (the puma) or lobo guara (a maned wolf) to name a few among the American big five!) are also a great part of the project and play a bi grole in the sincere motivation of the local devoted team.
After the acquisition of dozens of properties around the State Park, Reserva do Ibitipoca now has over 4,000 hectares of preserved area. This area has been transformed into a continuous stretch of Atlantic Forest, one of the most endangered biomas in the world (today there is only 7% left of the Atlantic Forest compared to the time of discovery of Brazil, 500 years ago, while over 60% of species threatened of extinction in Brazil precisely live in the Atlantic Forest) and a biodiversity hotspot (with ten thousand species of endemic plants).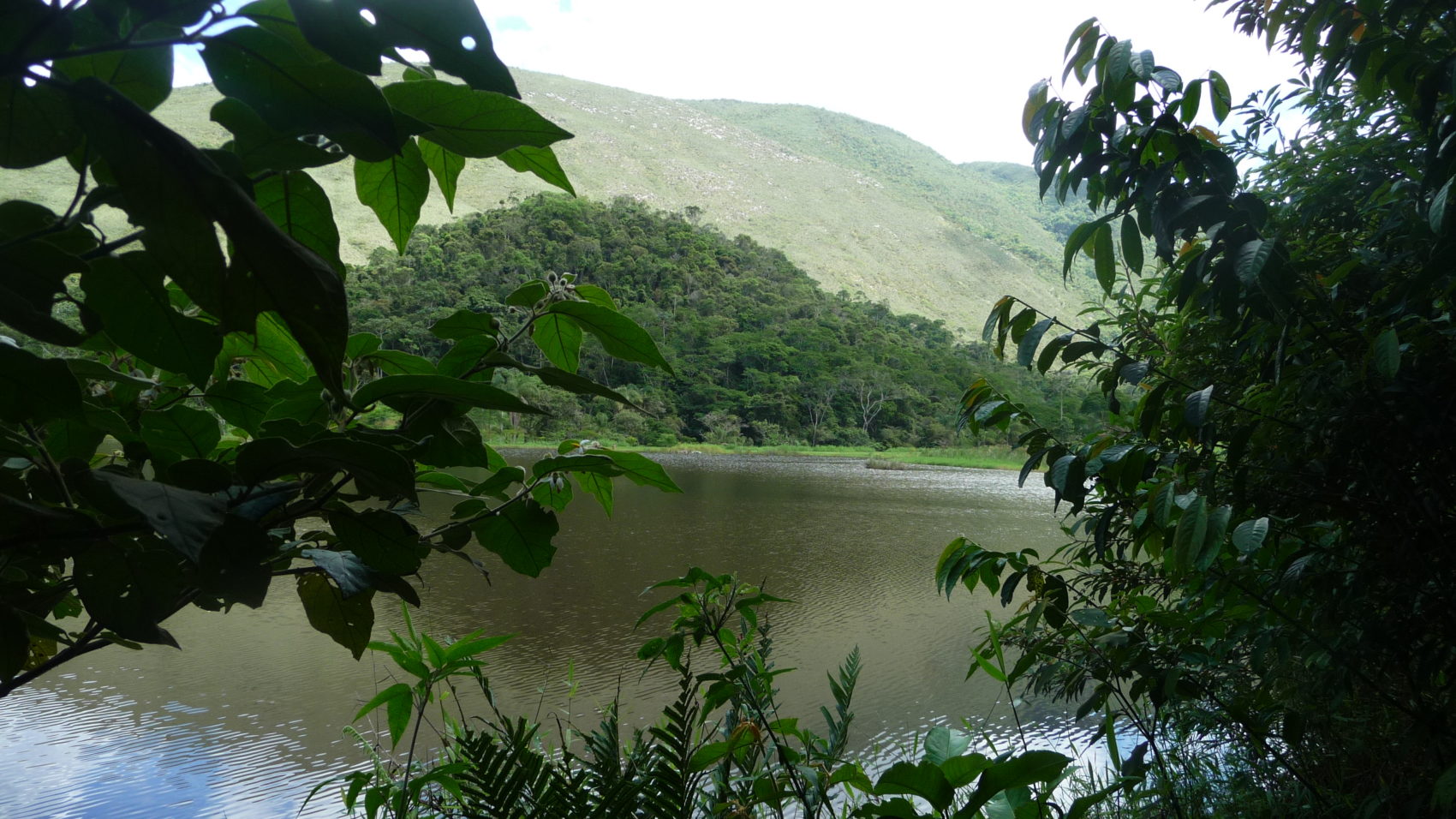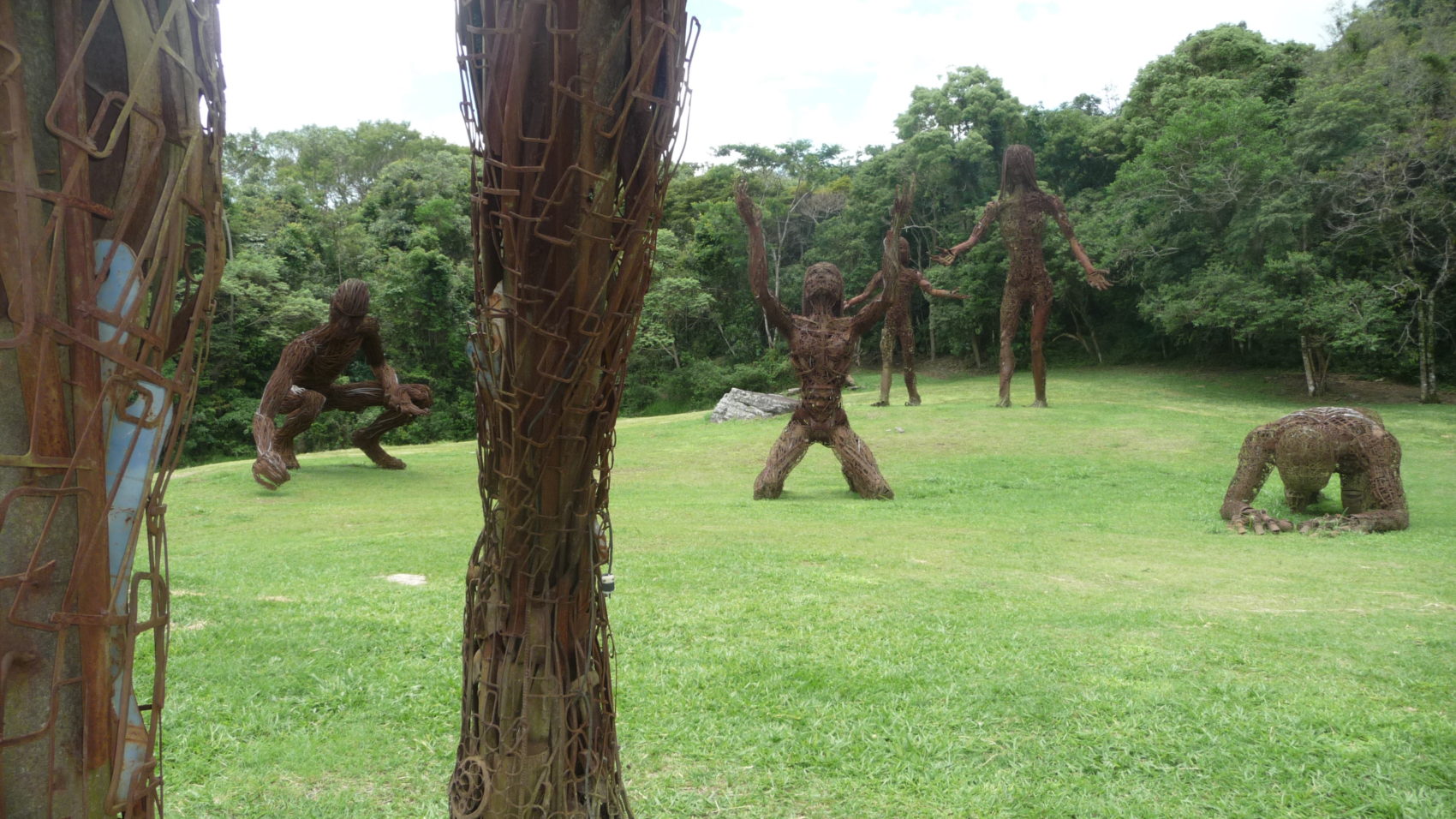 THE LODGE THROUGH A PURE NATURE D(ECO)RATION
Reserva do Ibitipoca's ultimate luxury is to be found in the simplicity of every detail : an old wooden floor in the common places and bedrooms, a stylish tiled floor in the bathrooms, frescos and old maps on the walls, curtains that float in the wind from one room to another. Here in the Engenho Farm where all facilities operate, you'll be marvelling at an old altar. This three-hundred-year-old renovated mansion, previously a Fazenda, overlooks a peaceful lake adorned with a sculpture. Because at Ibitipoca, an attention to every detail is not only to be found in the farms… but also in pure Nature. Art is everywhere, surprising you even more high up in the mountains, when you no longer expect the hand of Man!
The 8 suites feature a unique décor composed of handicrafts that highlight the local culture, while no  televisions is going to pollute your dreams. Guests are invited to forget the outside world and live each moment intensely connected to nature. An old bath can sometimes be found outside for total reconnection to Nature and wellness!
For families looking for more privacy, there are other options, notably a typical farmhouse with 3 Suites, decorated with authentic mineiro art, that offers stunning views and is located only 100 meters from the main house.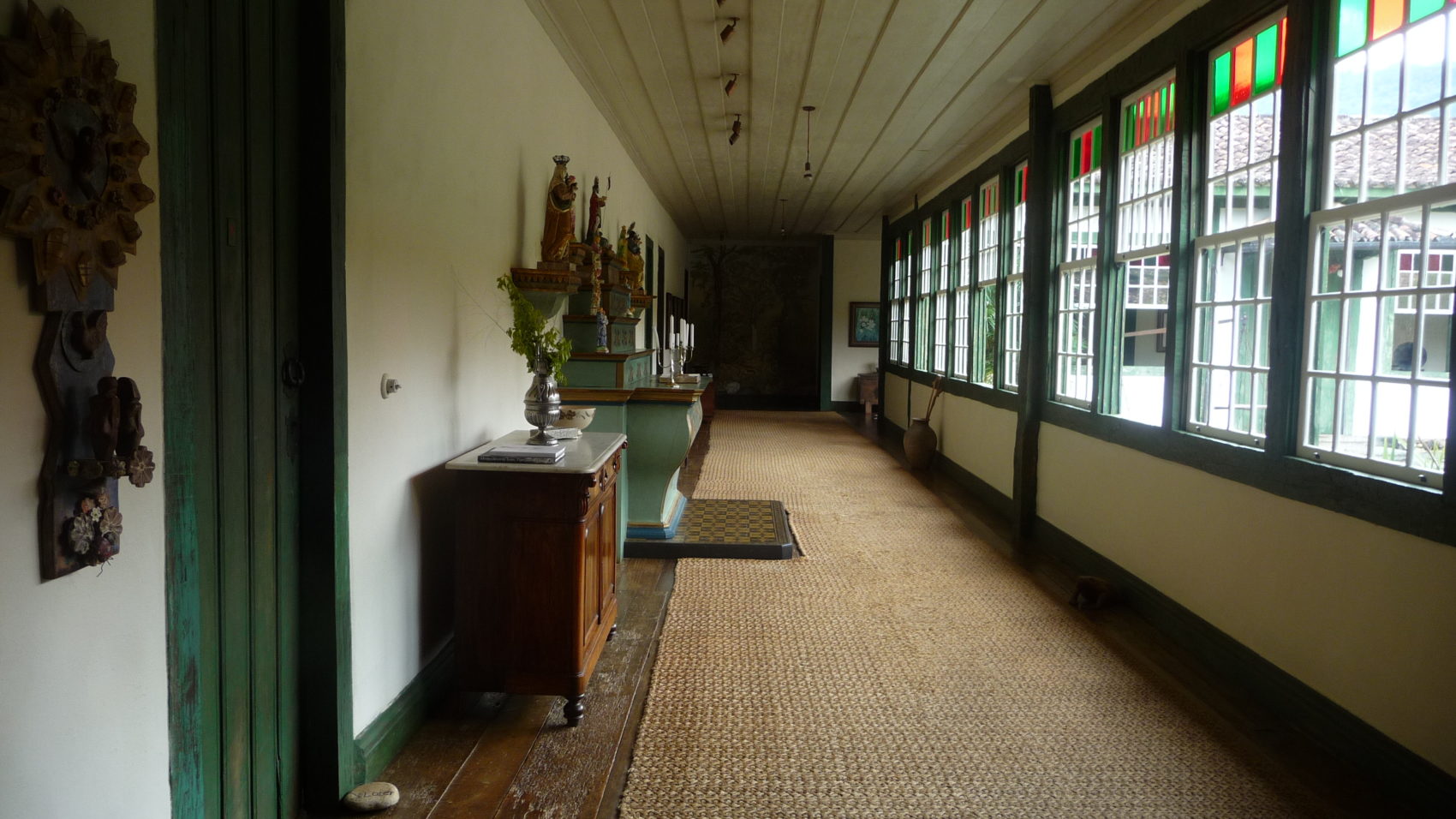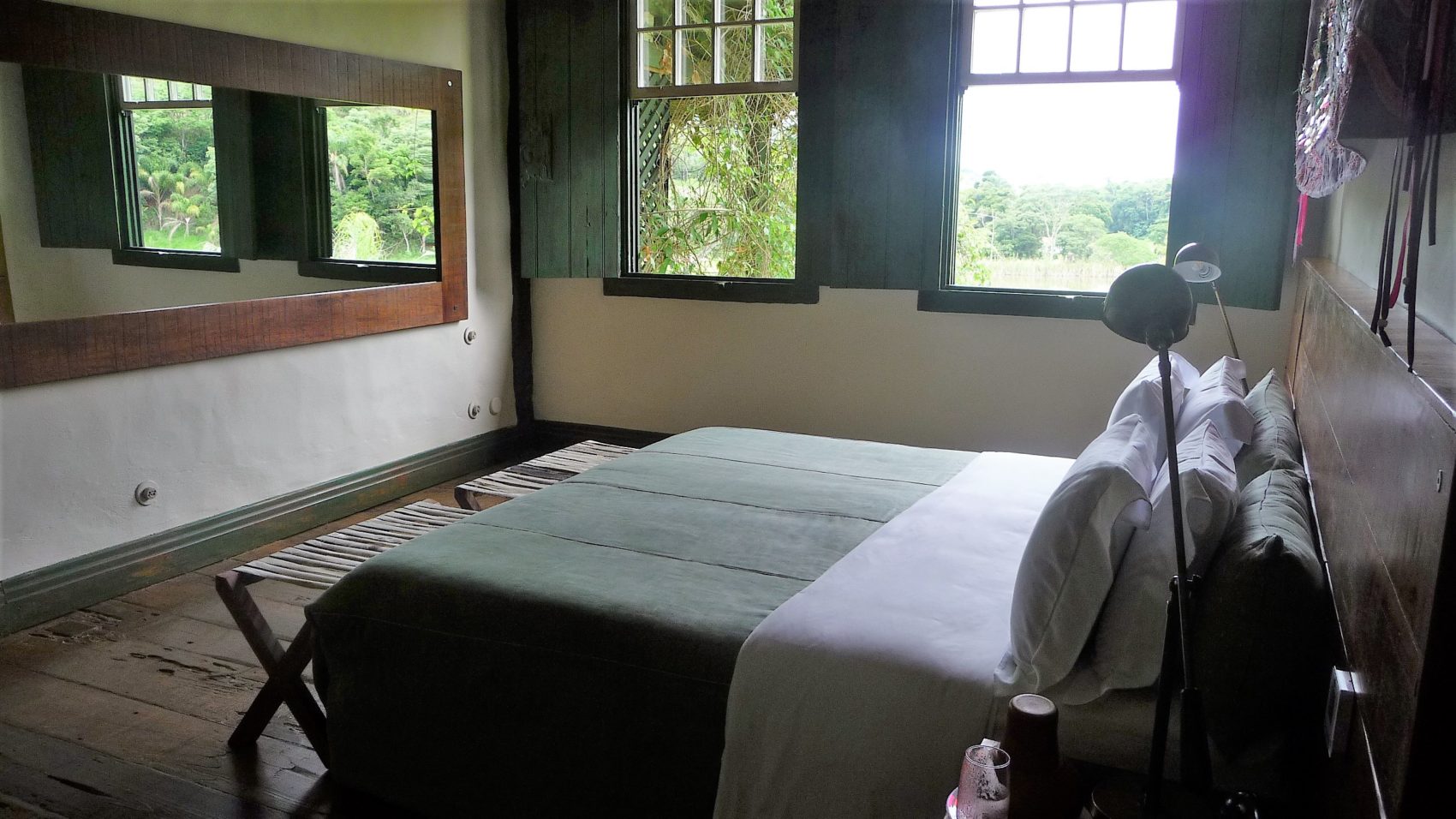 At the restaurant, the decoration is again as simple as beautiful. With a buffet dressed along the day for breakfast and lunch time. But you may also be surprised to find yourselves seating for dinner in a lounge apart. Unless you should be served in a more exotic place such as under a century-old Jabuticabeira. Dining beneath a billion stars for a heavenly moment.
The most unexpected is the kitchen… based on the model of Walt Disney's cartoon « Ratatouille »… with its black and white tiles and copper central oven. Emblematic of a cuisine as it ought to be.
The Spa offers an outdoor hot tub with majestic views while a sauna also opening onto Nature is connected to a lovely room where to rest and enjoy a book as well as views of a peaceful scenery from. Should you be a little attentive, you will not wait long to enjoy the visit of the long-legged « seriema » or of a couple of green macaws jumping on the back of a deckchair.
Another barn with deep leather armchairs, sometimes welcoming a toucan as a special guest, invites for relaxation and massages as well as morning yoga sessions, with beautiful views of the forests.
Last but not least: pools of ferruginous waters are expecting you after a walk in the forest. Here and then, waterfalls add to the vibrant energy of Nature.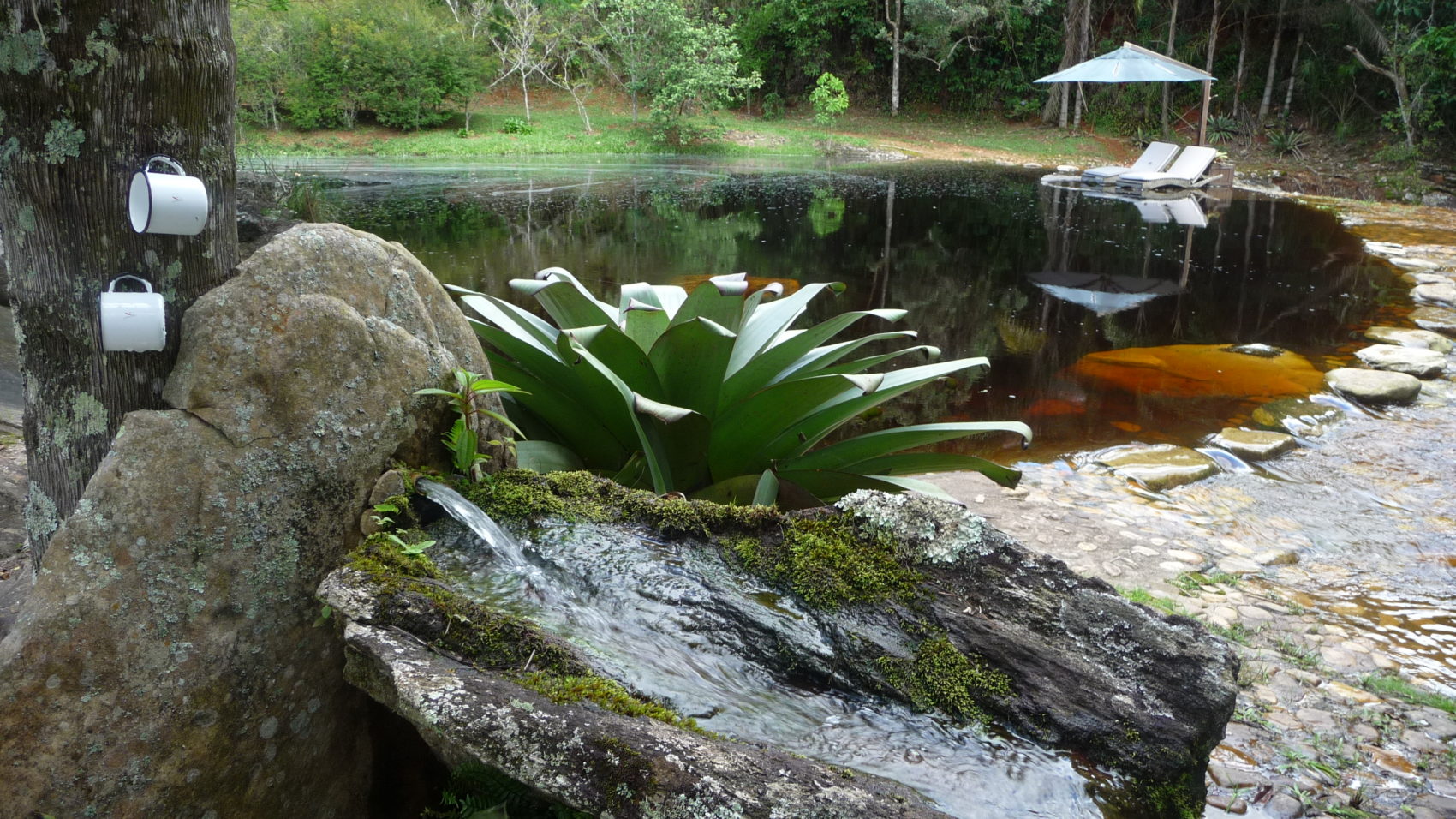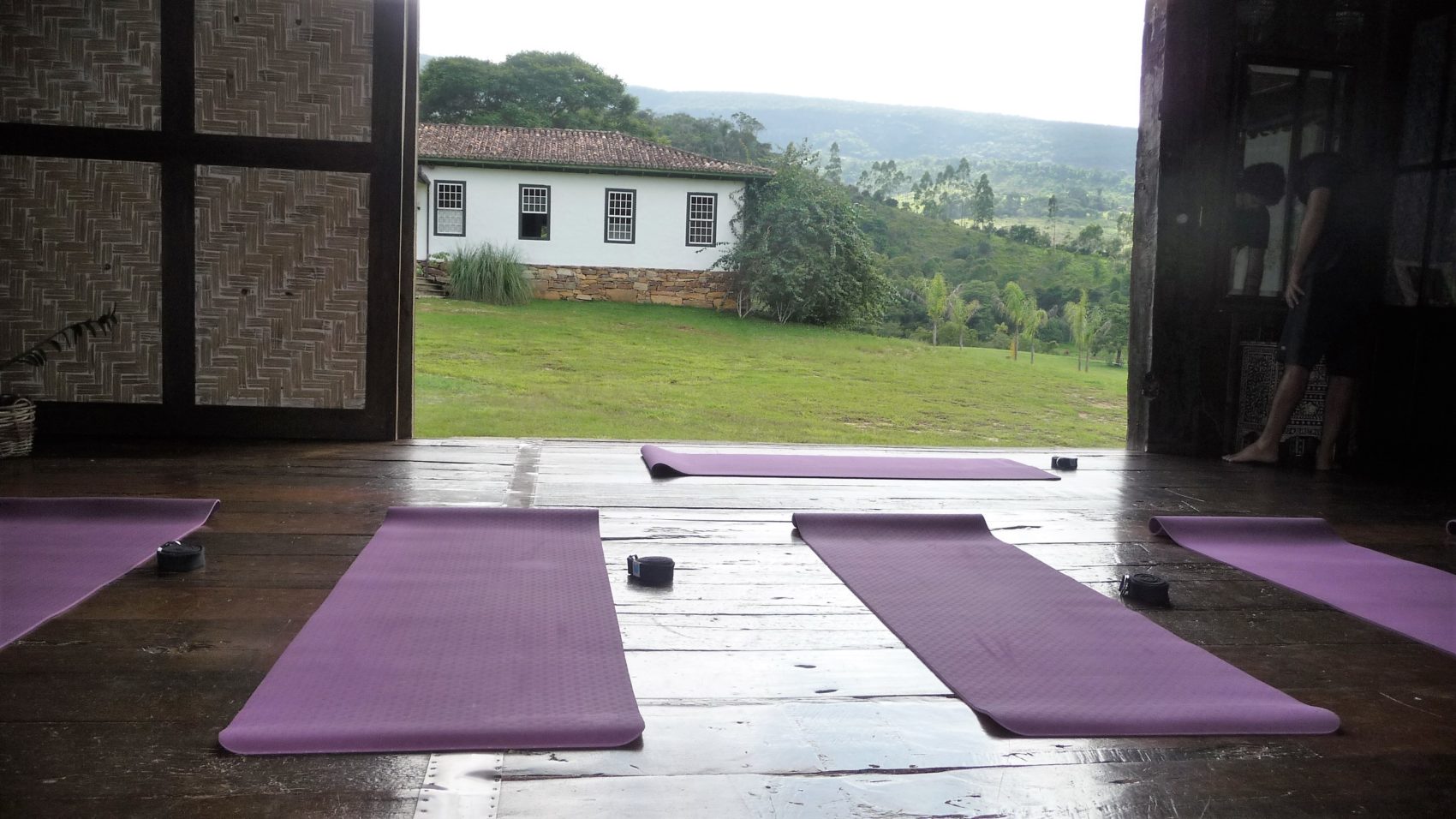 SLOWFOOD & MINAS GERAIS
Brazil is known for its feijoada, a stew of beans of Portuguese origin cooked with beef and pork and most commonly served with white rice, as well as for its churrascarrias, these restaurants offering a symphony of grilled meat.
At Reserva do Ibitipoca, this is another story you're invited to live.
Celebrating the fazenda's origins, the lodge produces lots of fruits and vegetables in its organic garden, with a goal: to adapt to what it produces so that 100% of the ingredients placed on the table should be produced onsite. Sustainable techniques such as agroforestry are in mind.
Everything you are invited to eat is inspired by local stories, experiences and culture as well as a willing to surprise you, inviting you to suddenly savour a « pao do queijo » while the Chef has been trained in Rio by renowned Claude Troigros.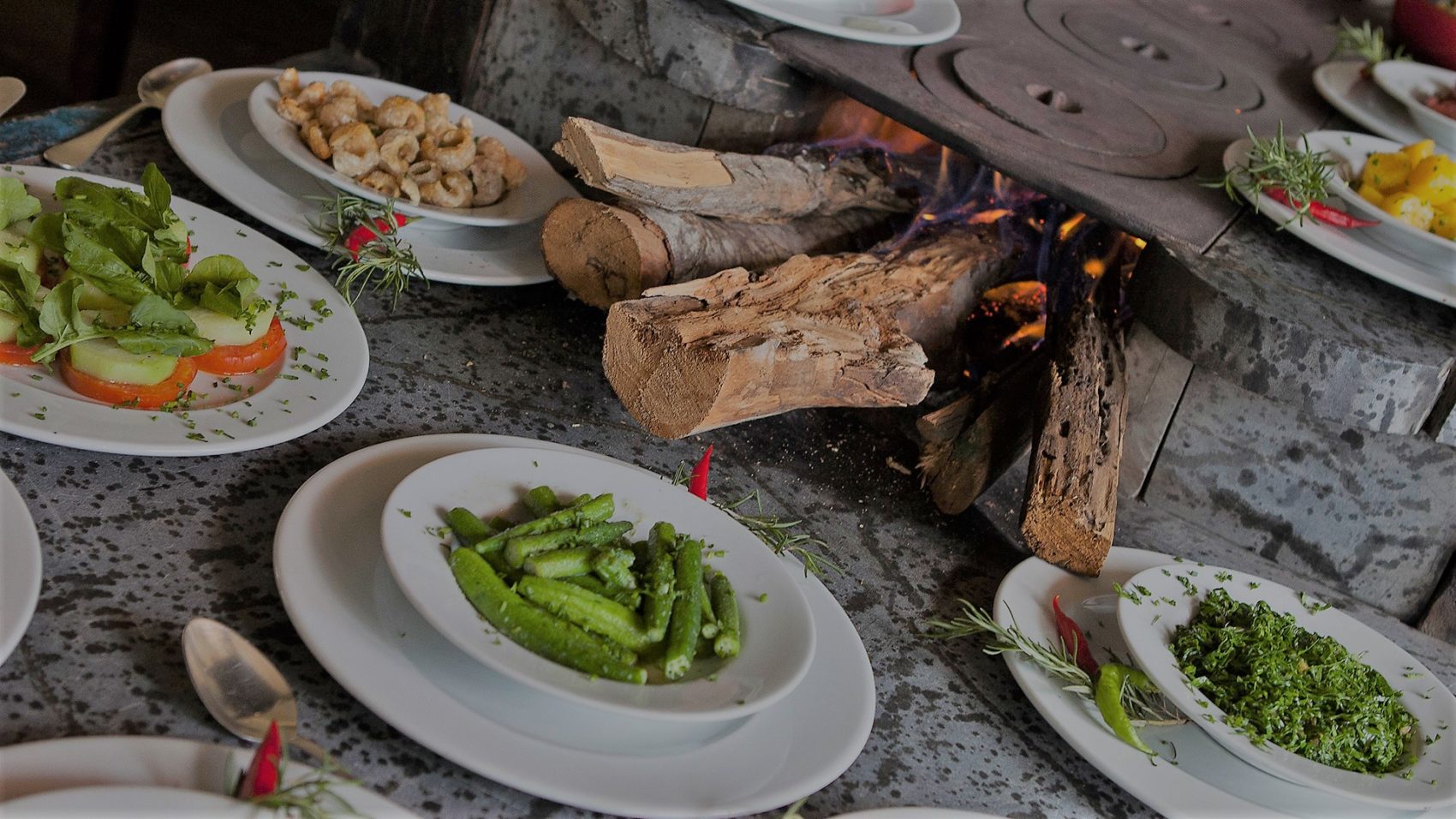 AN ECO SENSITIVE LODGE…
At the entrance, you can read a sum up of the Responsible Tourism Policy on a rusty rough and chic board:
REDUCE what you buy
REUSE what you have
RECYCLE everything else
RETHINK a sustainable world.
On site, your daily experience keeps being interrupted with a glass (at the restaurant) made from the bottom of a bottle, an outdoor lamp made from the top of the same bottle. REUSING totally bottles that way suddenly seems to be as simple and ecofriendly as smart.
Making ideals into principles of life, Ibitipoca daily follows the dear wish of:
Prioriting the economic, social and environmental sustainability, as well as the happiness of employees in all decisions,
Leading by example and showing the community the value of preserving local culture and habitat,
Providing visitors with a significant cultural experience, holistic natural experience, and opportunities to improve the mind and body,
Preserving the biodiversity, and redeveloping the forest,
Raising awareness of global environmental issues such as global climate change, and prioritizing the reduction of carbon footprint,
Reducing waste,
Prioritizing the purchase of local and environmentally sustainable products and, when possible, being self-sustaining with the production of goods within the Reserve. Mills scattered throughout the property for sugar-cane sirup and flour are mere examples of such an ambitious programme.
FOR AN ECO SENSITIVE EXPERIENCE…
« Upon viewing the beautiful meadows that stretch before my eyes today, I cannot help but feel a real pain in my heart when I realize that I will soon be leaving them behind forever », felt French botanist and explorer Auguste de Saint Hilaire when visiting Ibitipoca State Park in the XIXth. century.
Apart from daily excursions on foot, horse or bicycle with electric assistance, dedicated to bird-watching and botanics, the traveler may expect to visit the community of Mogol after making a stop at a wonderful peaceful lake where to ideally learn how to paddle. Adventuring down the Swallow Canyon is just another option.
After the excursions, the Spa is an inviting plage to rejuvenate and indulge in treatments that are all inspired by natural elements, herbs and plants from the forest, and specially designed to envelop you in an atmosphere of charm and simplicity. Well-being is provided through aromas, textures, and simple contact with nature for a holistic eco-sensitive experience. Herbal tasty tea, fresh from the garden, will come to put the finishing touches to such blessed moment.
TAKE HEIGHT & FLY OVER…
You may reach Ibitipoca on a small plane or a helicopter from Rio. The great opportunity to fly from the marvellous bay over to Minas Gerais and natural reserves.