Boa Vista Parco do Norte – Cape Verde
WELCOME TO THE ATLANTIC OCEAN'S WILDERNESS
Only starlit sky at night
Welcome to the Boa Vista's Wilderness, on the north coast of the island in the archipelago of Cape Verde, located off the west coast of Africa. Welcome to the Natural Park of Norte in Boavista, an ancient settlement of fishermen and farmers that was abandoned in the '80s and that now has been given life to after several years of patient restoration with the people of the nearby village of Bofareira.
On a fascinating untouched landscape, the respect for tradition and colours give the place quite a unique atmosphere reflecting the magic of Cape Verde. An ideal destination for a vacation far from the classic Cape Verde's sunny mass tourism holidays, where you will discover fascinating places between rocky goat mountains, dunes and remote beaches overlooked by an old lighthouse. Here, simplicity is luxury, nature is style and silence is interrupted only by the sounds of the wind and of the sea.
From the ecolodge, you will enjoy wonderful walks as far as Cabo Santa Maria, a rusty shipwreck where children are used to diving into. Also a rocky and sandy mountain over a pristine beach where to hopefully observe turtles that feature among the protected iconic species of the island. Ponta Antônia is among those unexpected beach destinations with crystal clear water that you reach after a 30 mn. walk on a sandy trail.
As a sum up, Boa Vista's most magical hideaway is an abandoned fishing village converted into a stunning eco-lodge by Larissa LAZZARI, the Italian artist owner. Inside whitewashed cottages with colourful windows and shutters, stylish and minimalist rooms showcase reclaimed wood and clay floors as well as ocean views. In the evening, the notes of the morna, born to sing the sodade, that nostalgia of the Capeverdeans who emigrated for work, waft through the air… before you take place at the restaurant which serves delectable food. A stay at Spinguera is definitely a worthy unforgettable one.
AN ATLANTIC OCEAN NATURE RESERVE
The archipelago of Cape Verde, of volcanic origin, is 600 kilometres off the coast of Senegal and each island has a distinct geographical character.
Following 500 years of Portuguese rule, the archipelago of Cape Verde became an independent republic in 1975, made up of ten islands and various islets, divided between Barlavento and Sotavento. At Boa Vista (a 30 km distance from the northern end to the south, 30 more km from west to east, for a total area of 620 km², and as such, the third largest island in the archipelago and the easternmost of the Barlavento islands group), Sahara-like dunes and moon landscapes alternate with valleys and hills (the highest point on the island is Monte Estância, 387 m) of poor vegetation.
Fifty-five kilometers of beaches make a circle around the island with long stretches of white sand appearing as magnetic as restful, and as such, a perfect starting point for scuba divers or surfers, as well as photographers and naturalists or simply those wishing to celebrate Life at its best.
There are also uncontaminated coves for watching turtles (eggs deposition of the Careta Careta turtles from June to September) and whales (whales passage from March to May).
The territory has undergone a progressive desertification, these past decades with dunes contained behind a stone wall that used to protect the salt from the sand at a time when Sal Rei meant King salt, a valuable gift from nature as much as an important means of conservation, explains Frei, local guide.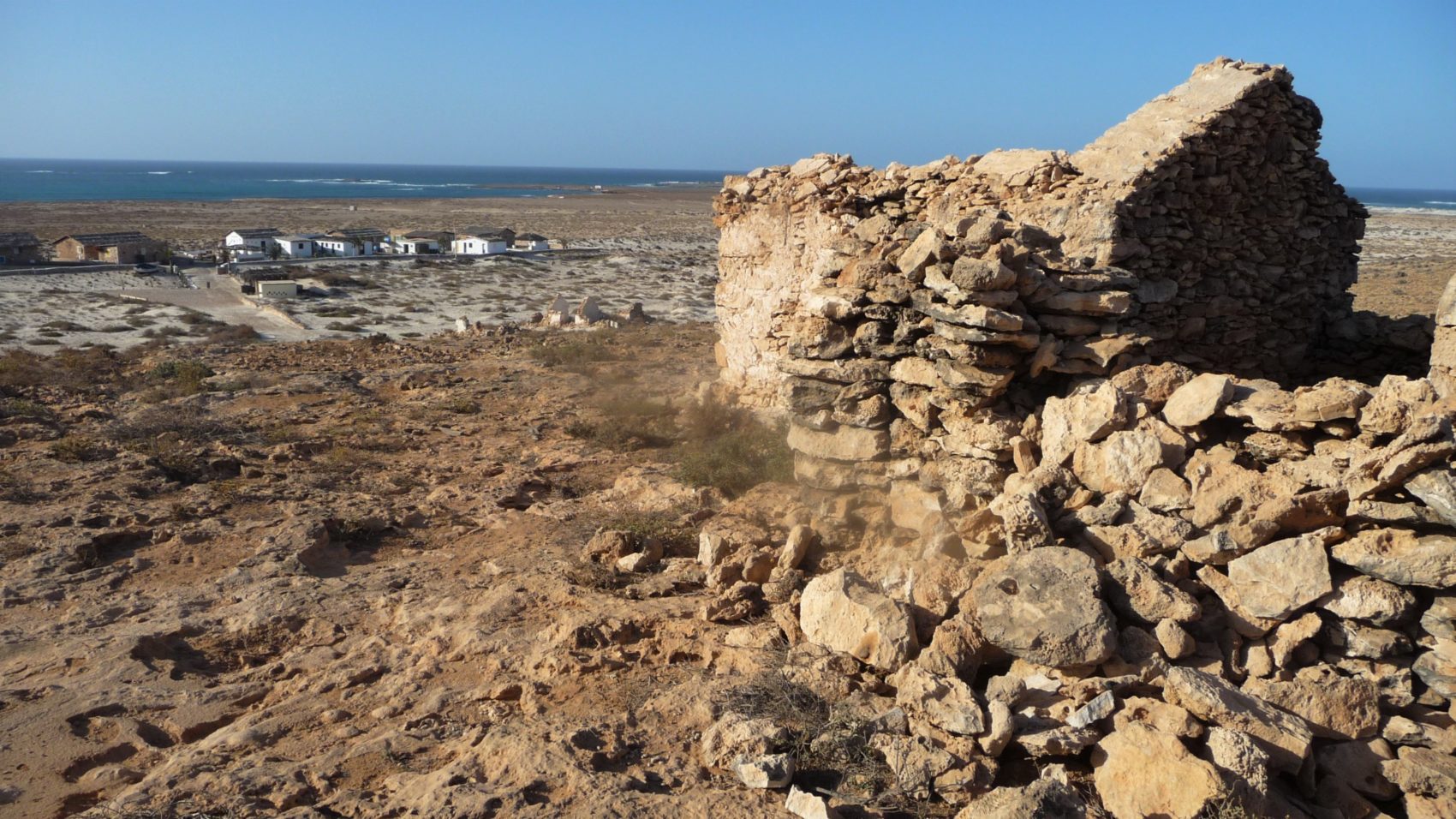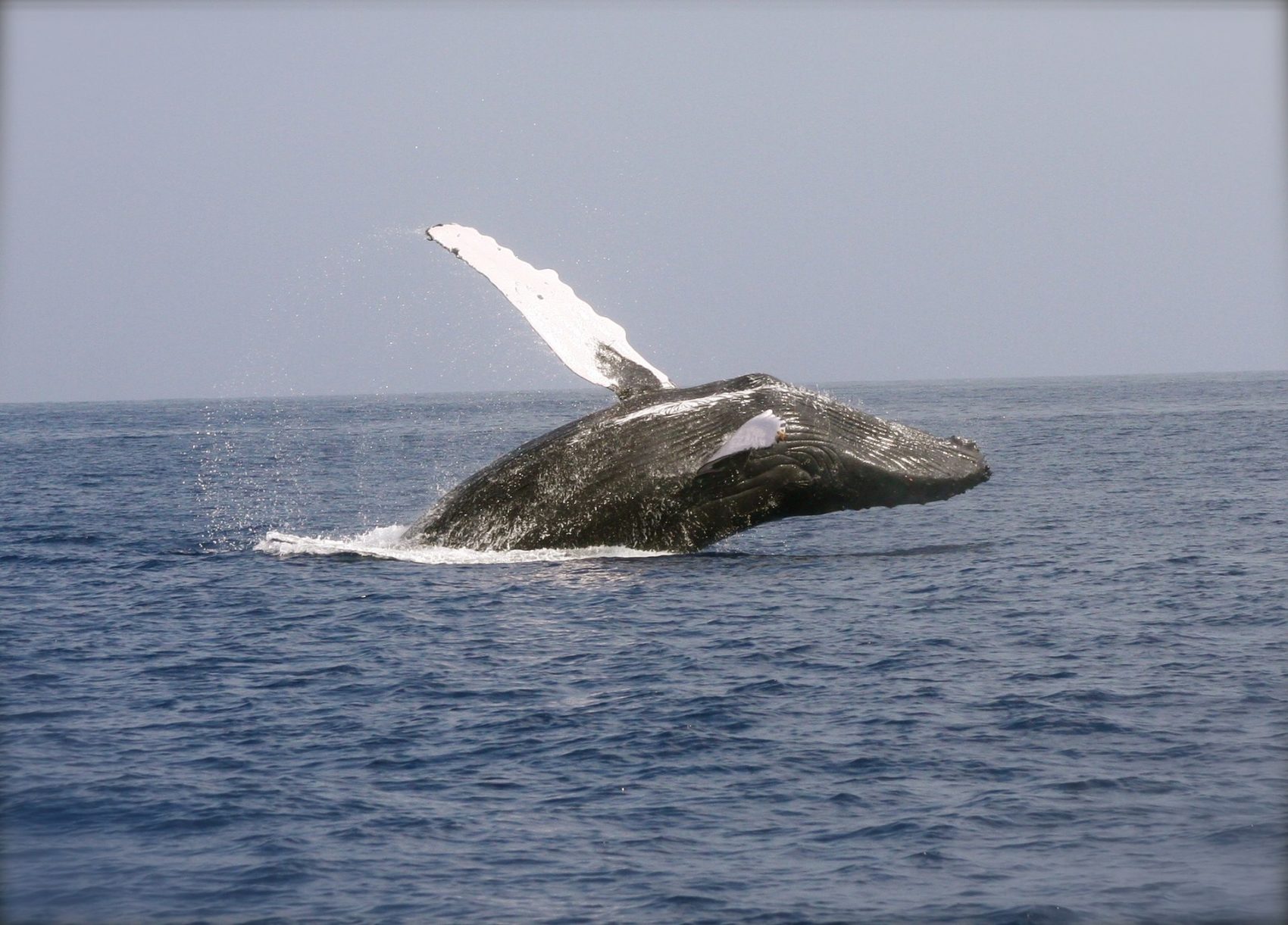 THE LODGE THROUGH A PURE NATURE D(ECO)RATION
Simplicity probably sums up the fantastic serene reality of Spinguera, with in-outdoor shells and skulls of goats and whale phalanges mixed here and there with rusty teapots and an old sewing machine that convey the charm of a cabinet of curiosities. African tapestry on the walls and ceramic fish looking candle holders from the Artesanato pottery school of Rabil are part of the endearing atmosphere. In the rooms, canopy beds with mosquito net bring this adorable colonial touch.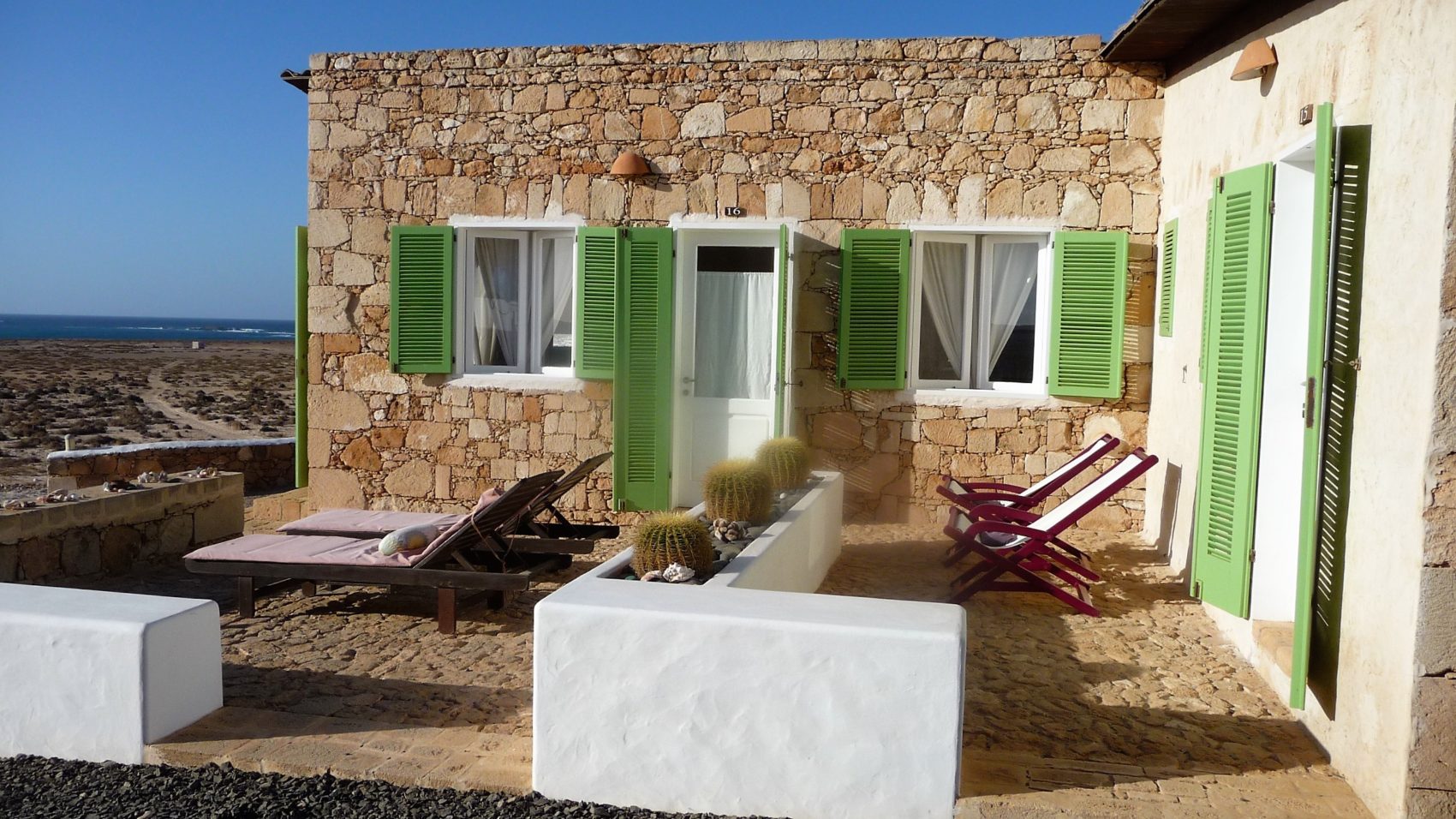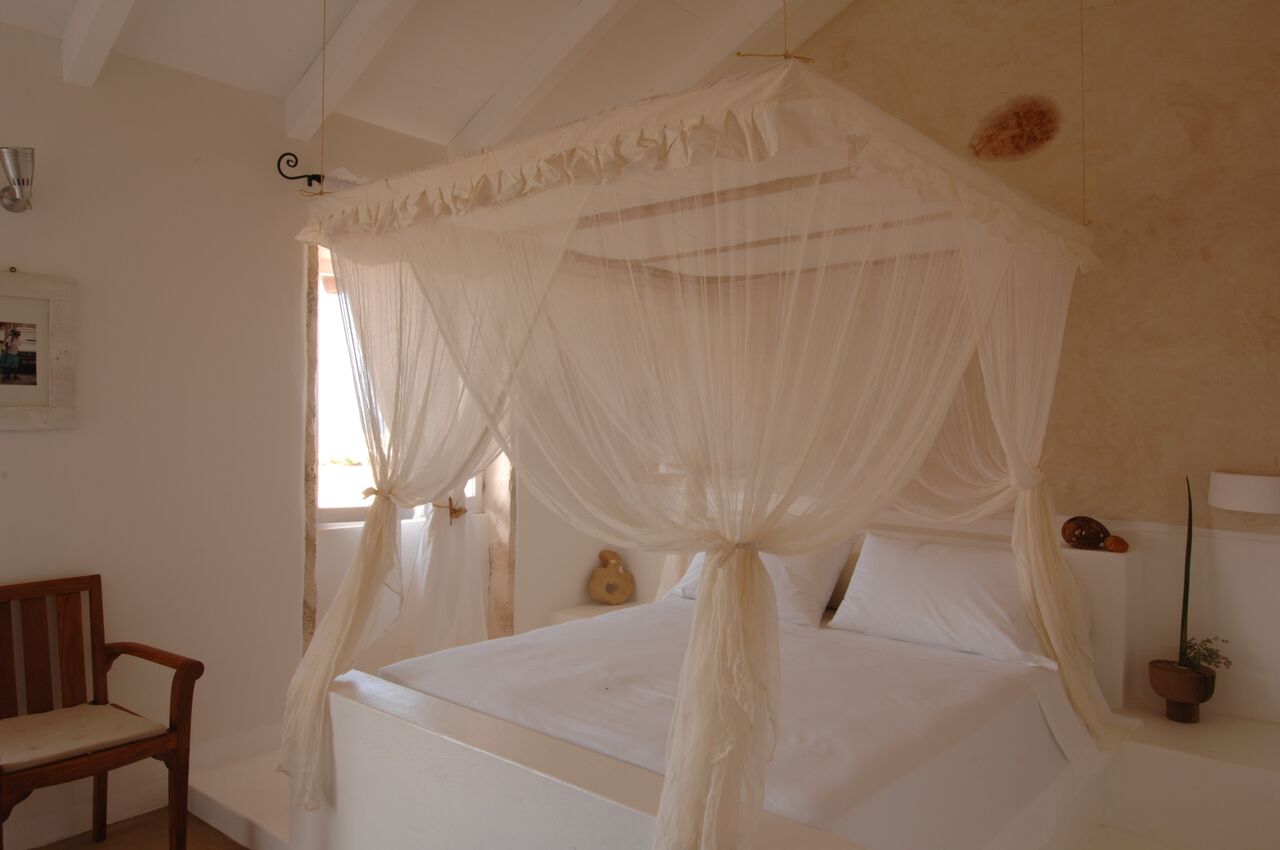 At the restaurant, curtains float in the wind while you are invited to indulge in a delicious dinner with a view, under a palmtree roof. African style cushions attached to the wooden chairs participate in the simple yet comfortable and charming ambiance.
A previous stop at the bar where Rosa will gladly bring you a glass of white or tinto (red) Cha do Fogo, wonderful volcanic wine, is a pretty good way to start the evening.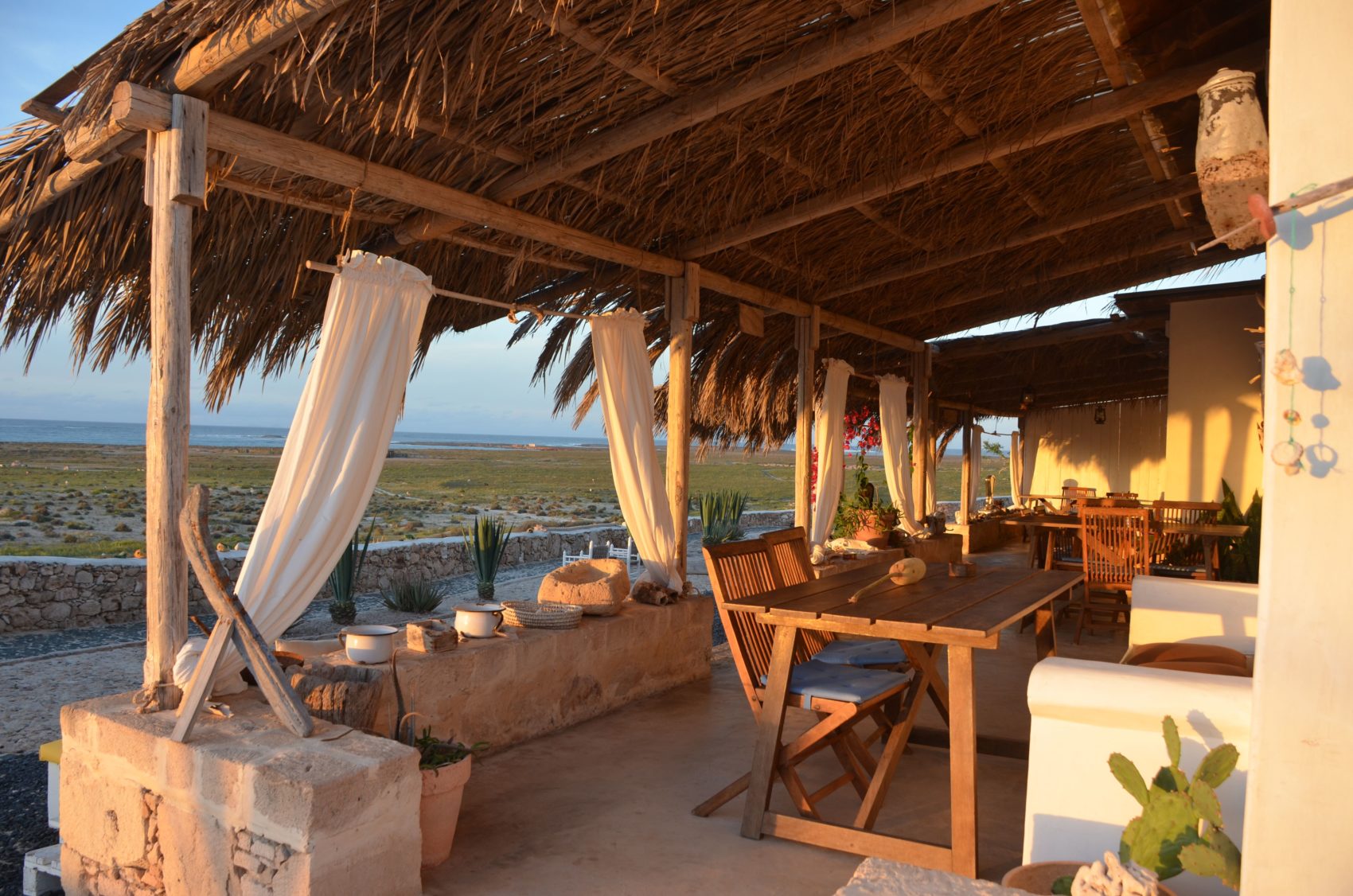 With an obvious need of water for decent use, desalinised for daily washing, no need to say a pool would be insane. Instead, you may enjoy a walk to a beach nearby… most probably just for yourself. On the way back, make sure you booked an ayurvedic massage or a shiatsu session. A few huts a stroll away – while London, New York, Milano or Reykjavik are indicated miles away, with a certain touch of humor – are invitations to practise your yoga or meditation by the beach. Expect pure Wilderness Wellness!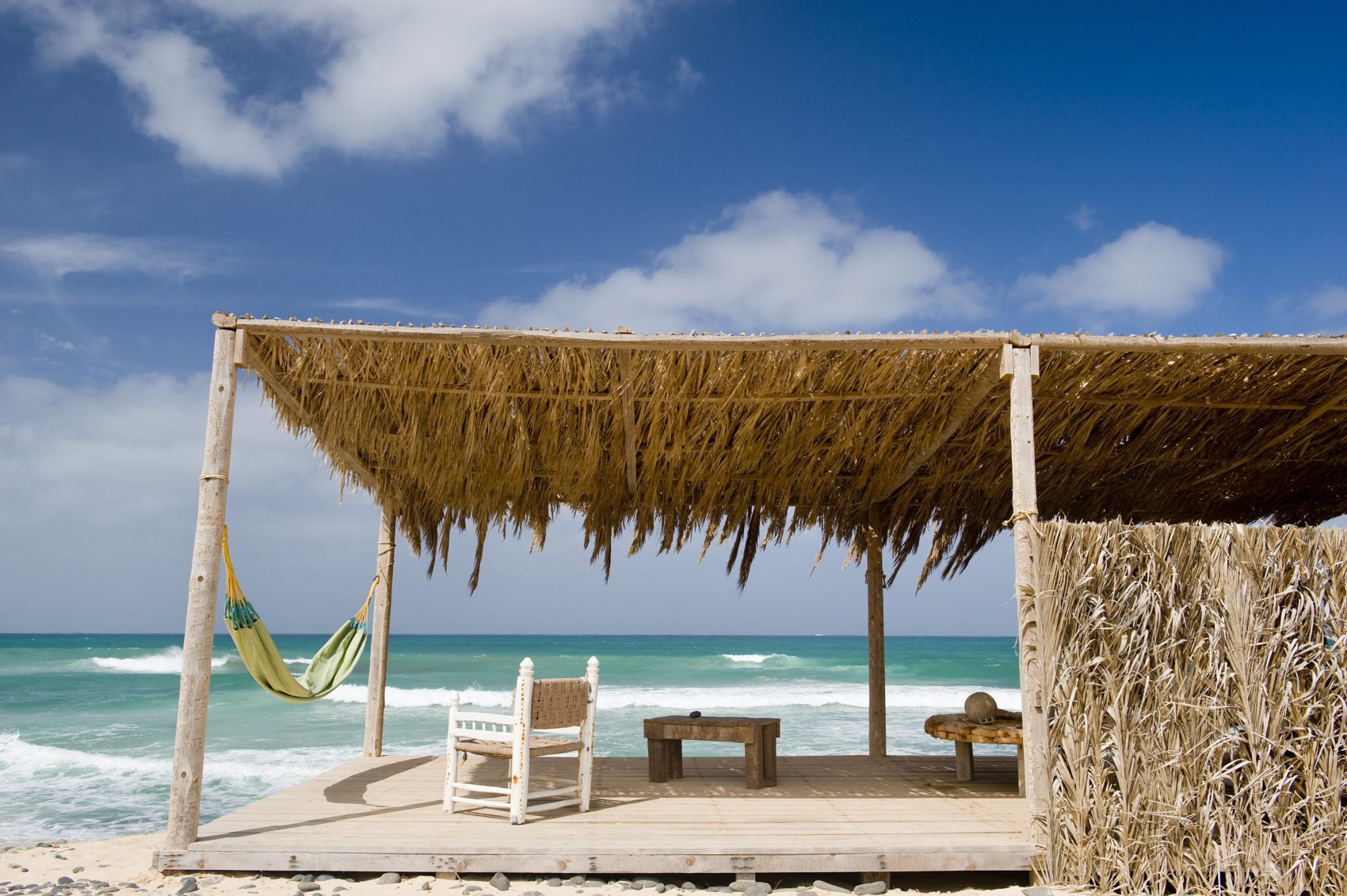 SLOWFOOD & CAPE VERDE
Cape Verde is known for cachupa that invites fish or meat together with corn grains, red beans, sweet potatoes, manioc. Cachupa can be conjugated as simple, with little or no vegetables, rich (cachupa rica), even richer (cachupada) or dry (cachupa guisada), ideal for a hearty breakfast.
At Spinguera, you will also enjoy fish in every style: tartare or carpaccio (with that italian special touch) but else on skewers of fried and served with mashed potatoes, beans, rice… and all available vegetables cultivated on Boa Vista. Chocolate is often the guest Star of desserts, either cake, tiramisu (another of these italian surprises) or as a mousse which is another possible appreciation of orange or lemon. Don't miss the grogue caseira (house grog) to end your dinner under the starlit sky before a good night.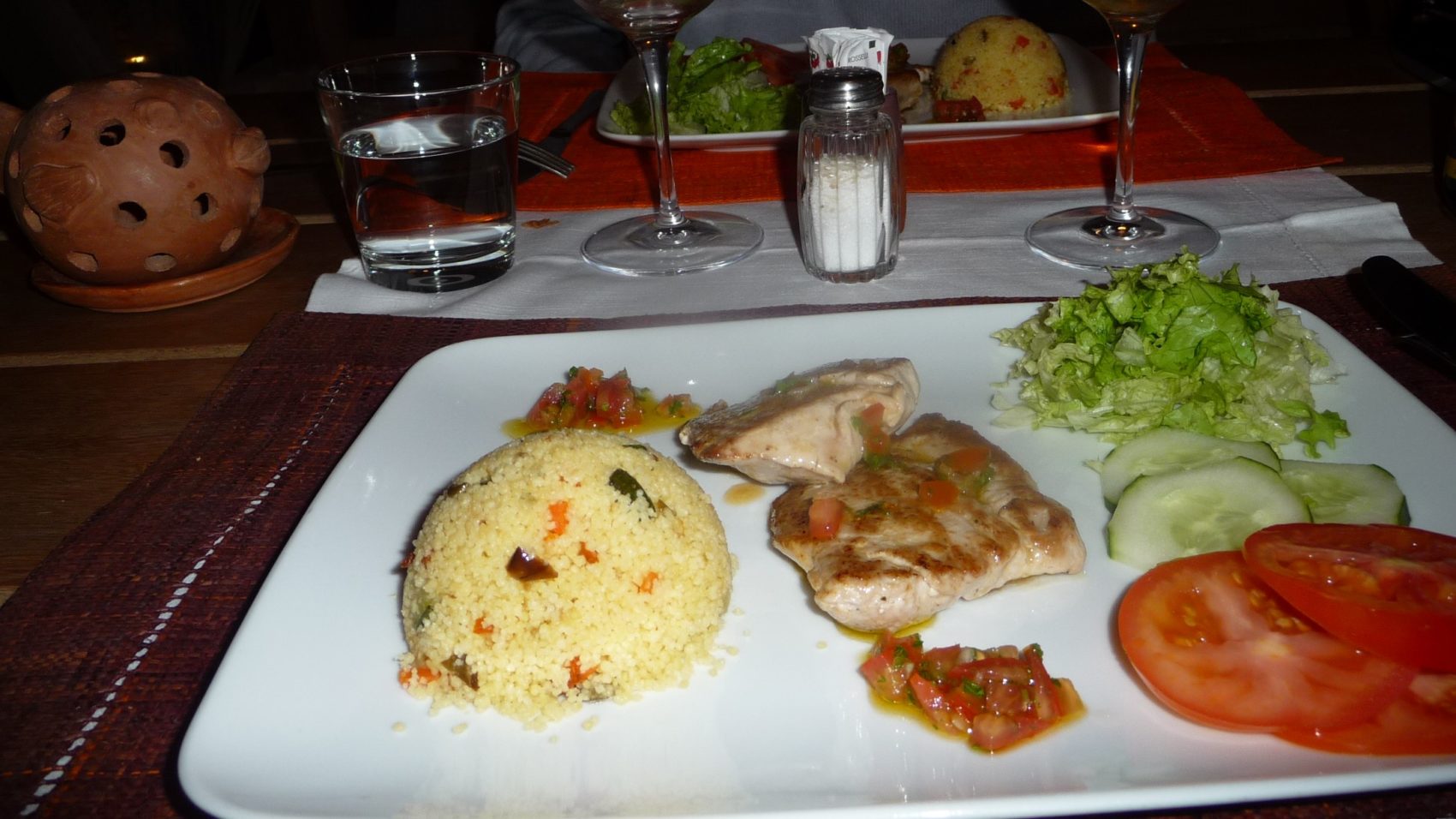 AN ECO SENSITIVE LODGE…
The charm of Spinguera Ecolodge is intact, ready to be discovered and enjoyed by those who seek authentic and unspoiled places. The environmental impact is zero, the ecolodge being perfectly integrated into the landscape.
With infinite respect of the ecosystem and biodiversity, Spinguera has always worked with the nearby community of Bofareira to achieve a perfect destination for the responsible traveller.
To favour the social and environmental sustainability Spinguera Ecolodge uses renewable energy sources. The water heating is guaranteed by the energy produced by solar panels. Electrical systems are powered 70% by a photovoltaic plant while the hot water is produced by solar pannels.
FOR AN ECO SENSITIVE EXPERIENCE…
There is no artificial light for dozens of miles, no buildings interrupt the view and all visitors remain breathless once they reach this land. Definitely a place where to enjoy an eco-sensitive experience through the year, with specific timeless moments, notably that of watching the gigantic whales jump over the surface of the sea. Pure magic of Nature!
Birdlife International has also designated Cape Verde and in particular Boa Vista as an endemic bird area, with 15 breeding species. We come to observe the shearwaters of Cape Verde (Calonectris edwardsii), the frigate oceanite (Pelagodroma marina) or the superb frigate (Fregata magnificens), a magnificent bird on the way to extinction.
TAKE HEIGHT & FLY OVER…
The Air Element is never too far away, Spinguera being regularly refreshed by a small breeze, but at certain times blows the harmattan, that fascinating dry wind that blows coming the Sahara desert. If flying is not part of the program, how about taking a kite with you? You will have a great time flying it while running along the miles of deserted beaches.
Kitesurfing, a sliding sport consisting of riding with a board on the surface of the water, while being towed by a specially adapted kite, called a wing, is another invitation to ride with the Air Element.